This Accessory Trend We Hoping Won't Go Away In 2017
Two words could summarize last year, we called "90s resurgence ".
Thanks to this flashback, the Choker, one typical accessory of that good old days, has officially come back in style. Not even in "high fashion", It girls strat to wear this necklace in their off-duty outfits. Yes,it has made the transition from some edge culture thing or teenage stuff to must-have accessory.
Sarah Michelle Gellar,1995
Drew Barrymore ,1992.
When scrolling through our instagram or tumblr, you''ll find that it might be time to admit this trend is totally like a bomb. From the basic one, a simple black velvet or silk ribbon, to metal, rhinestone or leather variety, this little piece always looks flattering.
Here are the points we should learm from our fashion idols for updating this trends in 2017.
 Simple On Simple  (the slip pieces would be a fancy partner with your minimal choker)
Kendall Jenner, 2016 /
She used a simple black velvet choker to match her all black red carpet look. (her same strappy top)
If you need some details in your LBD look but still want keep chillin'
via Pinterest / try to mix contrasting colors up 
 via Tumblr / this amazing choker turned the n

ightdress into a statement one
nude untidy wrapped neck choker with fabulous off shoulder blush pink lace dress/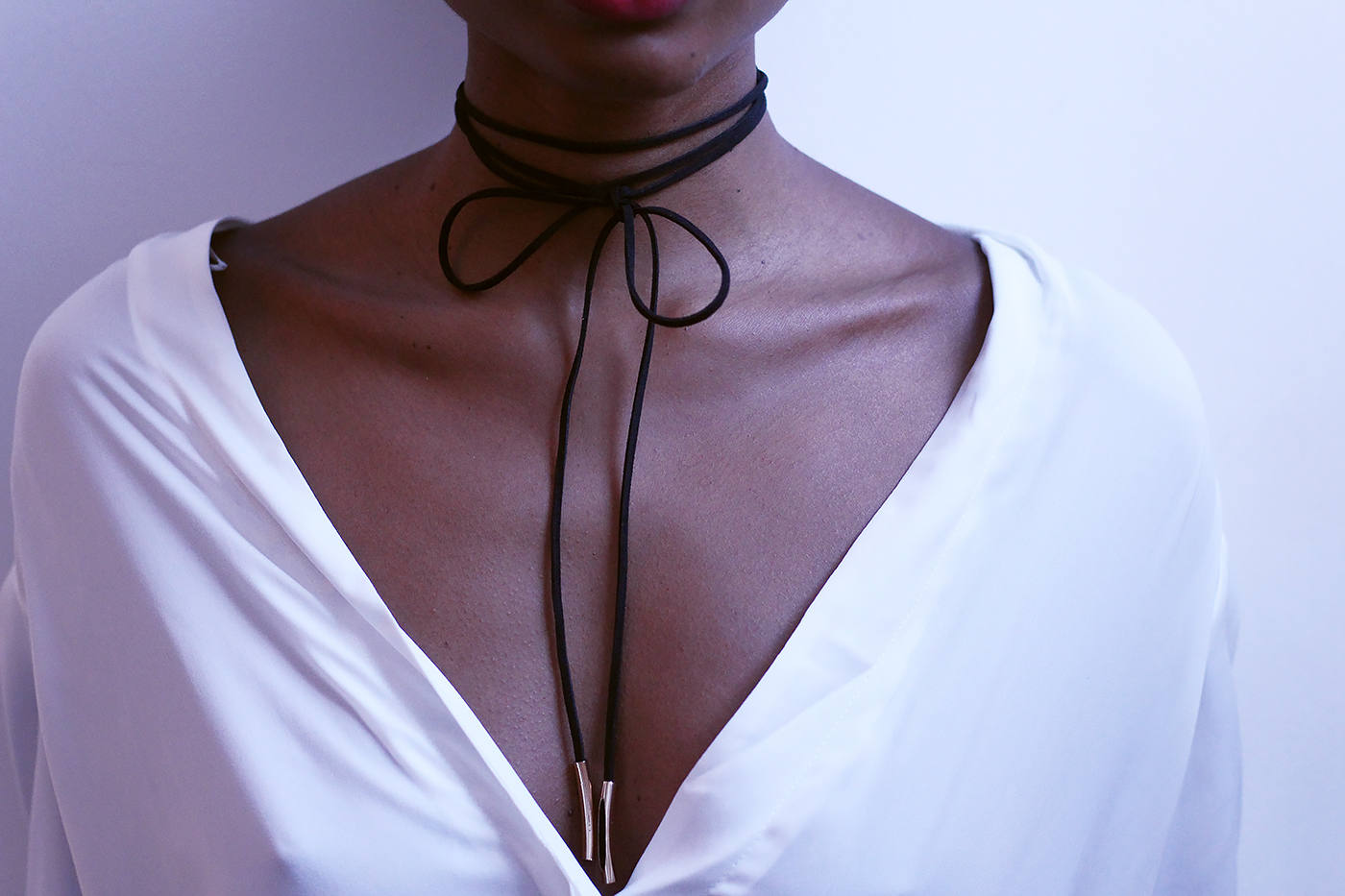 we also recommended off the shoulder pieces if you have beautiful collarbones(or not that doesn't matter)
wrapped front tie-up choker give your a feeling of gypsy-boho chic
(but if you choose the wrong fabric that might be terrible. you wouldn't be willing to wear your shoelaces.)
the best choker( velvet fabric with ornate floral details ) matching to your open back party dress
this kardashian-feel lace up wide choker you can find it on our shop get now
 DIY VELVET WRAP CHOKER via bisousnatasha.com
 Multilayer Your Choker With Other Necklaces 
via Pinterest / light up your simple white tees...
via Pinterest / black with gold ,fabric wiht metal
Shine Bright Like Diamond
via Vogue / as her song,"shine bright like a diamond". Riri is always Sophisticated Cool.
via Pinterest /  rhinestone chokers-----party queen HAVE TO HAVE. get now
via Pinterest / with red silky party dress
2/3/4 LINES SPARKLE DIAMONDS SIMPLE NARROW CHOKER from lupsona.com get now
from lupsona.com 
lace chokers are amazing and you can DIY your own design.
Youtube Tutorial: D.I.Y Lace Choker 
Dries Van Noten 2016 F/W 
actually just need one brooch and one wide velvet choker,you can make this by yourslef (it costs almost $300!!)
 Chan Luu Small choker with Diamonds: Jennifer Zeuner Jewelry Coin Lariat: Parpala Jewelry 
via Pinterest / /amazing floral embroideried choker 
via Pinterest / stunning mother of dragons inspired choker
via Pinterest  / ott floral embroideried lace choker 
AMAZING DROP-SHAPED WIDE DIAMOND CHOKER from lupsona.com
 
 🙌 Join Our Mailing List At The Footer 🌸 Never Miss Our Trendy News, Coupons, Gift Cards 🌸
1 comment